Exam Stress is a challenge for all children and adolescents.
Exam Stress is common to all age group of including the children and adolescents. During examination or before the examination, all students feel anxiety, tension, stress and some students take the examination as the phobia to them. The reasons behind the exam stress are – lack of preparation, high expectations, fear of failure, parental pressure, societal pressure and sometimes some major physical and psychological problems. Moreover, some students have genetic tendency to be stressed easily, to be very tense in any tough situation. Sometimes the anxiety or tension of parents also influence the mental state of the children and make them anxious, worry about their examination. But the Exam-Stress is always harmful for the students as they may forget answers of many questions, procedure to solve many problems in tension. So here 10 effective ways to reduce Exam-Stress are described to help the students to overcome their anxiety or tension during examination.
1. Prepare a Routine first based on your Ability, Study Habit and Goal–
It is very important to prepare a routine or timetable for good result and also to reduce stress during examination. If you prepare well from the beginning, study regularly with a lot of practice work and follow a balanced timetable of study and relaxation- you will be easily able to beat your Exam-Stress. You can make a routine based upon the time you can study, based upon your goals and also based upon your ability. It is obviously not good to make yourself ill by neglecting your health. Make a routine and paste it just before the Study Table and try to follow it as much as you can- you will surely find a good result.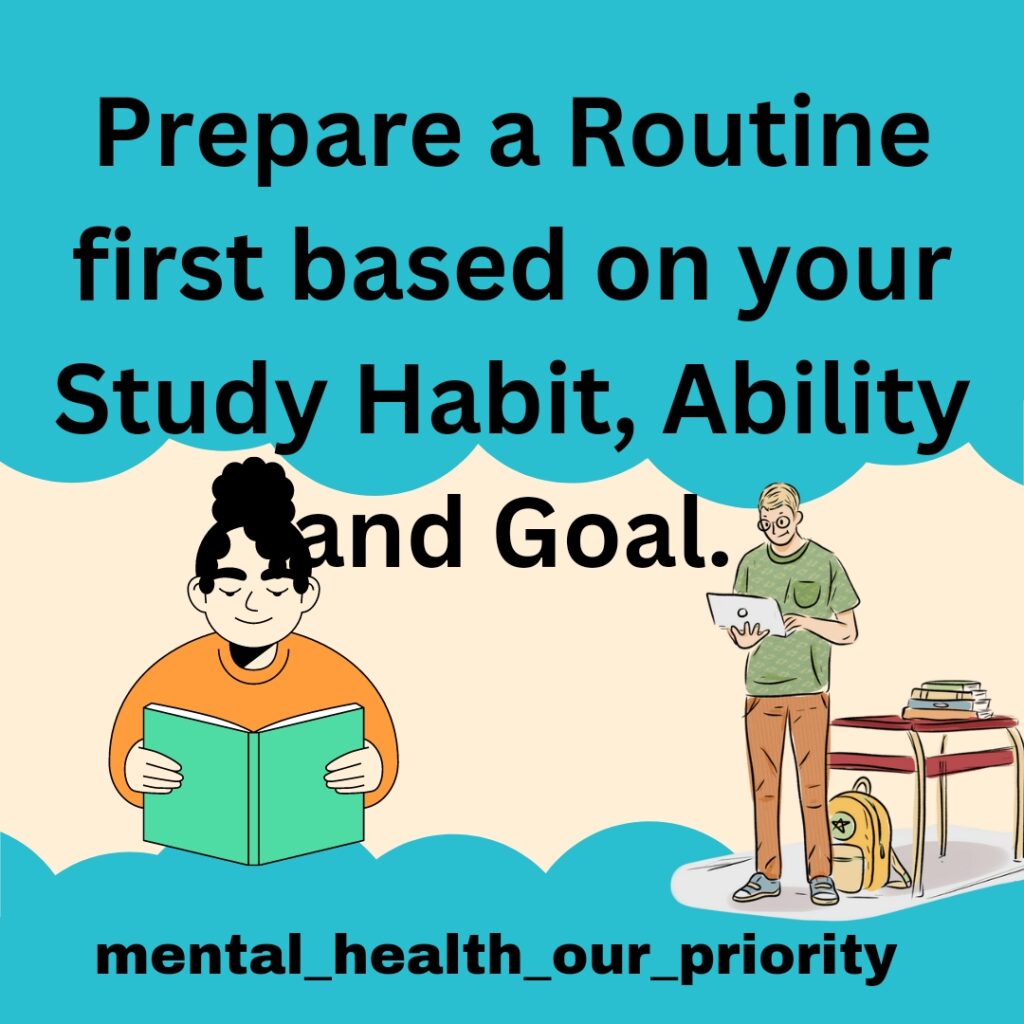 2. Set Small Goals for your Study so that you can Achieve: –
It is very important to set small goals to achieve in the planning of your study, for example you can make plans to cover 3modules of each subject in each week or to revise completely one subject in one week. Setting small goals and achieving that always boost up the confidence of the students and make them less anxious about their examinations. The huge syllabus of the subjects in comparison to the timeframe always create anxiety, tension or stress among students and setting small goals by dividing the syllabus into small fragments are really beneficial for the students to cope up with their Exam Stress.
3.Take a balanced diet and adequate amount of Water: –
It is essential for all the students to take a balanced diet to beat the Exam Stress. The diet must include fresh fruits and green vegetables like spinach, green peas, broccoli, kale etc. The diet must contain proper amount of protein and carbohydrates and it must be rich in iron and magnesium. Avocados, Bananas, Dark Chocolates, Broccoli,,Nuts and Seeds, Low fat cheese, Yogurt etc are really beneficial to reduce stress. Taking plenty of water everyday helps in detox of the toxic materials from our body and thus help us to become stress free.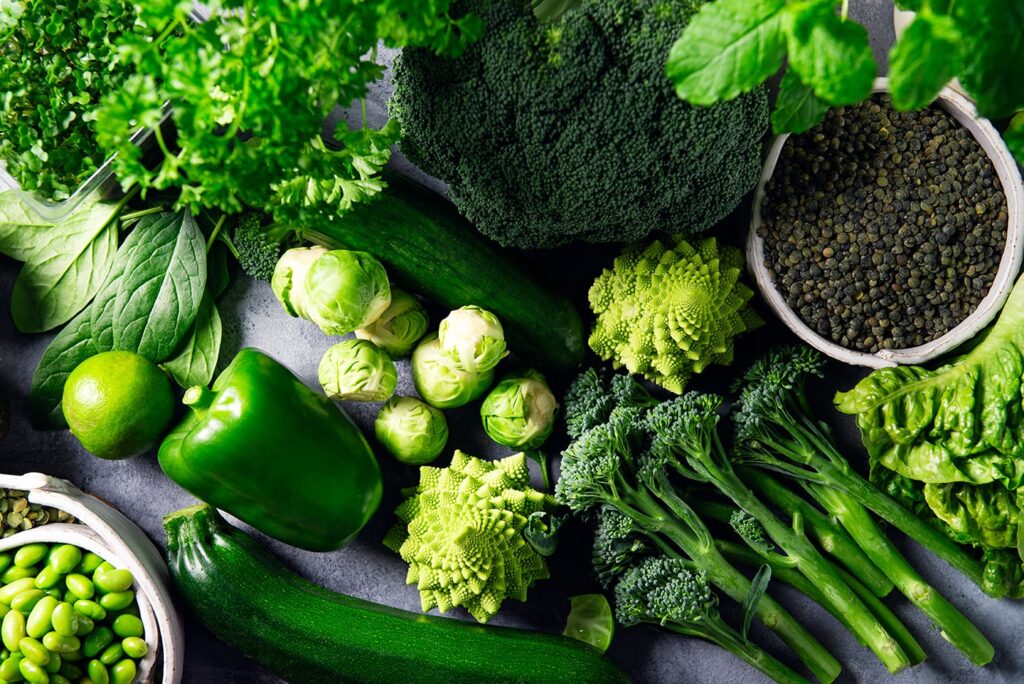 Fresh fruits and Green Vegetables help to reduce the Exam Stress of Students.
Take Adequate Amount of Sleep and also the Power-Nap :-
Proper sleep is very important for everyone to keep us healthy, to reduce our anxiety level and to minimize our stress. Adequate amount of sleep is essential for the students to keep themselves stress free , to beat the Exam Stress. Minimum 6-8 hours sleep is needed for the students. It is also proved in different studies that Power-Nap i.e. 10-15 minutes sleep in between the study hours is very beneficial for the students. Power-nap helps the students to refresh themselves, to boost up their energy level and thus helps the students to reduce their exam- stress.
5. Make Notes On Key Points On The Important Topics Of Each Subject:-
Since the syllabus of each subject is very vast, it is very difficult for the students to remember in detail the subject matter of different subjects. Here they can take the help of notes on Key- Points which in short provide the important information related to any topic. The students can use color pencil, highlighters, different shapes and symbols etc. to make their notes on Key-Points . Here they can use the help of Mind Map and Concept Map to make their notes more specific and interesting. If the preparation of the examination is good, the students have confidence regarding their study, obviously they will not experience too much Exam -Stress upon them.
6. Discuss the Difficult Topics with the Teacher and also with the Peer-groups :-
To reduce the Exam- Stress , the students can discuss the difficult topics with their teacher and make their concept clear on that topics. They can also discuss the difficult topics with their peers, can practice the complex topics with their peer groups. Different research findings in the field of Education and Psychology found that peer-group studies have extra-ordinary effect among students as students learn joyfully and spontaneously in peer-groups, they can easily learn from their peers and also can easily talk about their difficulties. Thus the Peer-Group discussion can reduce the Exam-Stress of the students.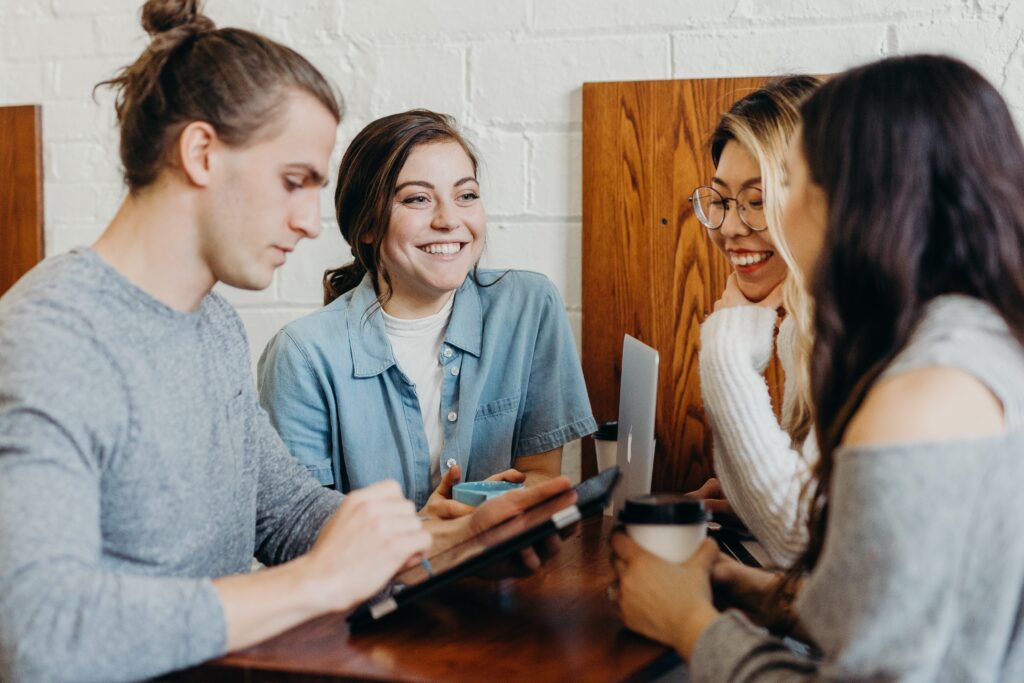 Peer- group Discussion helps in Study and reduce Exam- stress.
7. Regular Physical Exercise can reduce the Stress of The –Students:–
Regular Physical exercise like walking, jogging, cycling,yogasanas etc. are proved as the beneficial way to reduce stress. Just a 20-25 minutes' walk during the morning hours or evening time will surely refresh you as it increases the secretion of Happy hormone Serotonin and several cortisol hormones in our body and we feel good, refresh and happy. Regular physical exercise also helps to increase the concentration of the students, make them more focused and help them to manage their stress and anxiety. Dr. John Ratey, an Associate Professor of Clinical Psychiatry at Harvard Medical School, explains that exercise improves learning in three ways; enhancing the mindset to improve alertness, motivation and attention and preparing and stimulating nerve cells to bind to one another and promoting the growth of new nerve cells. Thus, regular physical exercise for minimum one hour is highly recommended for the students to cope with their stress, anxiety or tension. Regular physical exercise ensures a better quality of sleep and proper sleep helps the students not only in retaining more information but also to fight with the stressors of daily life.
8. Take Short Breaks In Between the Study Hours:-
It is very beneficial to take short gaps in between the study hours as it helps the students to process the information and also rejuvenate themselves. A study conducted on elementary school students found that the habit of taking short breaks in between the study hours make the learning process of students joyful and stress free. A study among college-aged girls proved that those who were allowed to take a short break from studying were calmer and less stressed than those who were not allowed to take short breaks in between the study hours. Actually, taking short gaps in between study hours act as the Time Out hypothesis and help the students to cope with stress of their study and also with the Exam Stress.
9. Try to Study in a Calm Environment or in a place comfortable to you: –
It is very important that the environment of study should be calm, free from any kind of loud noises including the sounds of TV or sound system. The calm environment of study increases the attention of students, helps in recalling and processing the information and make them less prone to stresses. Since the students can easily learn in a calm environment, they can prepare well for the examination and also can easily handle their Exam Stress. That's why maximum students like to read in early morning or late night as the environment is calmer, noise free at those times.
Students need a calm environment and short gaps in between the study hours to cope with the Exam Stress.
10. Make a Positive Mindset and always Believe in Yourself :-
The most important way to beat the stress, anxiety and tension of daily life including the Exam Stress is to believe in yourself, believe in the abilities and skills of yourself and make your mindset always positive. If you have very low self-confidence, very low self-esteem and you do not believe in yourself, then you will be always worried, anxious and in tension in all activities of life including the examination. That's why , it is very important to believe in your abilities, make a positive mindset' study hard with a proper plan in order to easily beat your examination stress.
Positive Mindset will always help you to beat the stress of daily life including the Exam stress.
Thus, the students can beat their Exam Stress through a proper study plan, positive mindset and a well-balanced lifestyle with the combination of balanced diet, adequate amount of sleep and rest and a conducive environment of study.